August 27, 2015
In a continuing effort to add more services and alleviate client pain points, JWN has introduced secure document destruction services for our office and commercial cleaning clients.
We provide new 240 litre bins on site, collect on a schedule or on request, and destroy off site. Our destruction process includes shredding, cross shredding, wetting remaining paper with chemical and water mixture, and drying (effectively pulping) then recycling.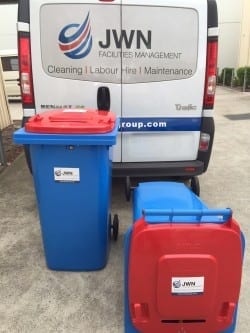 Early uptake of the service has been strong due to our lack of contracts, low price and the destruction being invoiced with the cleaning – limiting processing time.
If you use document destruction services, why not pay the lowest price. If you aren't using document destruction services, it is worth considering – Australian privacy laws and the proliferation of identity theft make security of your printed documents critical.
For a quick quote call 02 4964 1019 (Hunter), 02 4925 7717 (Newcastle), 02 4365 7597 (Central Coast) or email frontdesk@jwngroup.com